In-text citation
To cite an image you found online, use the image title or a general description in your text, and then cite it using the first element in the works cited entry and date.
Examples
The Dream (Rousseau, 1910) baffled art critics when it debuted, mere months before the artist's death in September of that year.
To incorporate images into the text of your paper:
In the text, refer to figures by their number (i.e., Figure 1 or Figure 2). Do not refer to figures as "the figure below" or "the figure above."
The figure # is as it would appear, numbered consecutively, in your paper - not the figure # assigned to it in its original resource.
Number the figures consecutively, beginning with Figure 1.
Each figure must have a full bibliographic entry in your Reference List.
Place the figure as close as possible to the part of text referencing it, unless otherwise instructed by your instructor.
Center the image in the paper.
Provide a brief description of the image. The caption should serve as both a title and explanation.
Use the following format as a guideline
Figure 1. Descriptive caption of image. From Image Title, by Creator's Name, year of creation, Database/URL. Copyright date by Name of copyright holder. Reprinted with permission (if applicable).
APA in-text citation example
The phenomenon of 'syzygy' (see Figure 1) in the night sky over Chile.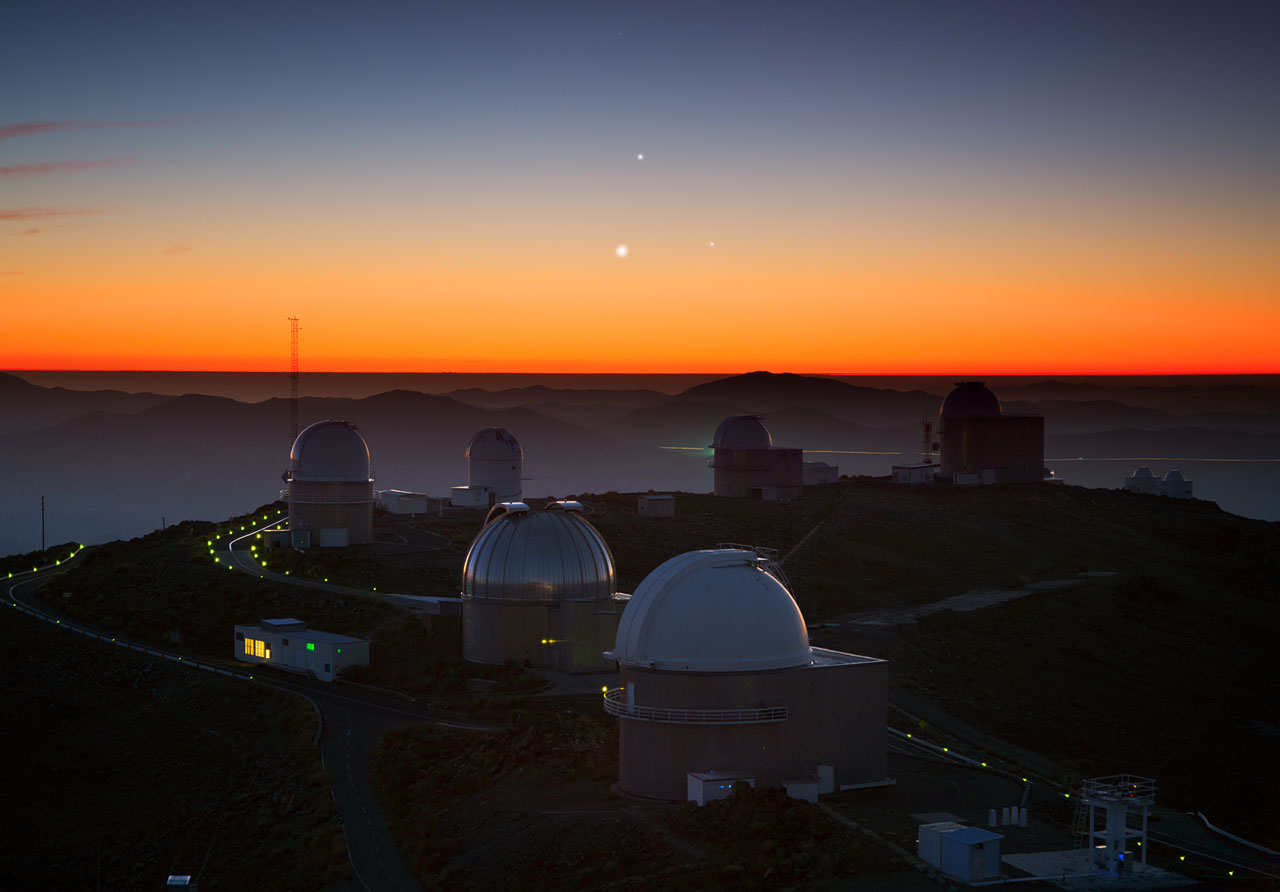 Figure 1. Syzygy (when three or more celestial bodies align in the sky) visible above an observatory in Chile. From Three Planets Dance over La Silla, by Y. Beletsky, 2013, https://www.eso.org/public/images/potw1322a/. Copyright 2013 by Y. Beletsky/ESO.
---
References list
Use the following format as a guideline
Creator's Last Name, First Initial. (Year of creation). Title of image or description of image. [Type of work]. Retrieved from URL/database.
Chihuly, D. (Artist). (1992). Olive Macchia with Cadmium Lip Wrap [Glasswork]. Dayton, Ohio; Dayton Art Institute.
Monet, C. (Artist). (1870-1874). View of the Sea at Sunset [Image of Painting]. Dayton, Ohio; Dayton Art Institute. Retrieved September 1, 2009, from http://library.artstor.org/library/secure/ViewImages?id=8D1Efjk2NzkvKzU7alN7R3IiWHwrew%3D%3D&zoomparams=
Irish, J. (2019). Sequoia national park. [Photograph]. Retrieved from https://www.nationalgeographic.com/travel/destinations/north-america/united-states/61-national-parks-photos/#/giant-tree-trail-sequoia-national-park.jpg.