Rather than providing strict instructions on how to format a citation for specific types of sources, the 8th edition of MLA outlines a universal set of general guidelines that can be applied to any source type.
Within MLA, when the source being documented forms a part of a larger whole, the larger whole can be thought of as a container that holds the source. Sometimes, there may be more than one container (eg. A TV series on Netflix, or an e-book available on Google Books).
---
In-text citation
To cite an image you found online, italicize the image title or general description in your text, and then cite it using the first element in the works cited entry (usually the author's name).
Examples
The Dream (Rousseau) baffled art critics when it debuted in 1910, mere months before the artist's death in September of that year.
As illustrated in Three Planets Dance over La Silla (Beletsky), the phenomenon of 'syzygy' is when celestial bodies align in the sky.
To incorporate images into the text of your paper:
Place the citation immediately below the figure.
All illustrative visual material (e.g., a picture, map, graph or chart) except musical illustrations included in your paper should be labeled "Fig," assigned a number and given a caption.
If complete bibliographical information about the source of the table or illustration is provided in the caption, and the source is not mentioned in your paper, you do not need to include an entry for the source in the list of works cited.
Refer to the figure in-text and provide an Arabic numeral that corresponds to the figure. Do not capitalize figure or fig. (eg. "See fig. 1")
Below the figure, provide a label name and its corresponding arabic numeral (no bold or italics), followed by a period (e.g. Fig. 1.). Here, Figure and Fig. are capitalized.
Cite tables and figures according to regular MLA rules except:

Use commas instead of periods when citing tables and figures, except for the period at the end of the citation.
If you provide full bibliographic details in a caption, convert the periods normally used after the elements of a works-cited-list entry into semicolons.
The medium of publication and materials of composition, if important to your discussion, could be included at the end of the entry as optional elements.
Format the author's name with the given name before the family name, (e.g. Jane Smith, not Smith, Jane).
A note on title format: A title is placed in quotation marks if the source is part of a larger work. A title is italicized (or underlined if italics are unavailable or undesirable) if the source is self-contained and independent. The title of the container is normally italicized and is followed by a comma, since the information that comes next describes the container. Use your best judgment.
A note on date placement: For date posted online, follow the format below. If you also want to cite the date an image (eg. painting) was produced, you can put that date in an "optional element" spot after the title.
Use the following format as a guideline
Fig. 1. Author (first, last); "Title"; Container, date, URL; medium (if applicable).
MLA in-text citation example
The phenomenon of 'syzygy' (see fig. 1.) in the night sky over Chile.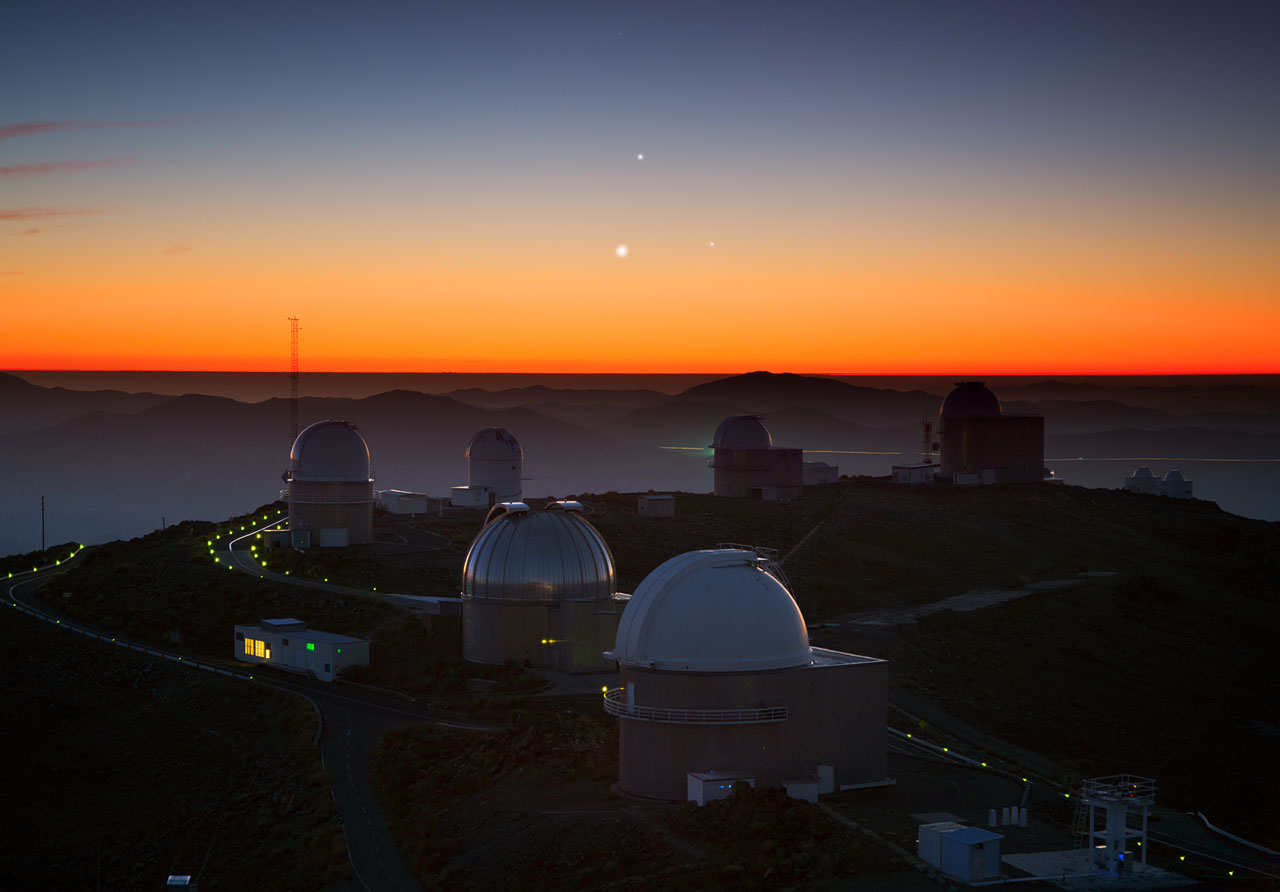 Fig. 1. Yuri Beletsky; "Three Planets Dance over La Silla"; European Southern Observatory, 3 June 2013, https://www.eso.org/public/images/potw1322a/; photograph.
---
Works cited
Use the following format as a guideline
Author (last, first). "Title." Container, date, URL. Accessed date.
Ofili, Chris. Nymph Dive (Rainbow). 2019, Museum of Modern Art, New York.
Ofili, Chris. Nymph Dive (Rainbow). 2019. MOMA, https://www.moma.org/collection/works/400161?classifications=6&include_uncataloged_works=1&locale=en&page=1.
Velázquez, Diego. An Old Woman Cooking Eggs. Circa 1618, Scottish National Gallery. The Vanishing Velázquez: A Nineteenth-Century Bookseller's Obsession with a Lost Masterpiece, by Laura Cumming, Scribner, 2016, p. 27.
Fanatic, Jane. Photograph of Jane Austen's House Museum. 2 Sept. 2017. Author's personal collection.